For those of you who are new to my blog, I would like to tell you a tiny bit about my children and my homeschooling methods. I have two older boys. Delbin is 14 and Jaedan is 12. I also have two girls. Teela is 6 and Zari is 4. I am a huge fan of hands-on learning, Charlotte Mason, unit studies, Classical, Waldorf, and Montessori. We are kind of a geeky family with a huge love of STEM (Science, Technology, Engineering, and Math). We also love reading, history, art, and music. We love nature, the great outdoors, and to go on educational/fun field trips together. I homeschool with an eclectic flair. I take my homeschooling methods and curriculum from many sources. I am now a new member of the Schoolhouse Review Crew this year. I am meeting some wonderful new people that homeschool as well. I am grateful to be on the team. As part of the perks of being a member, I get the opportunity to test out and share with you some great homeschool products, curricula and websites.
The first review is of an online school of sorts called
SchoolhouseTeachers.com
. I was given a
Yearly Membership
so I have some time to explore it a bit. I have had only 2 weeks to delve into it so far. So for now, I would love to go over the basics about it, what my family and I like about it thus far, and why you definitely should be checking it out for yourself.
I have poked about in the SchoolhouseTeachers.com website now that my family has a subscription and basically have come to the conclusion that I can only skim the surface for this review because of the vastness of what they are offering. The SchoolhouseTeachers.com website has literally over 100 courses! This online learning is wonderful because once you start the membership you have all their Christian homeschool curriculum right at your fingertips. You don't have to search the whole of online to track down wholesome classes for your homeschooler.
Once I got my subscription and logged in I could see that the website is fairly easy to navigate. This internet-based homeschool is organized and arranged by: teachers, age group (Pre-K/Elem, Middle/High School, Family/For Parents), and dailies. They also have a section for resources and course offerings. The courses range from core classes to electives and go from preschool to high school age...although I saw a few I would love to try myself. I believe that there is something for all ages and grades, really. Some of the classes are only a few weeks long, but others can take a lot longer. Many of the lessons are printable, downloadable, and have elements in them, like videos, that interact with your learner.
Like I mentioned above my family loves hands-on learning, so we decided to try some
Science Experiments
from Jason Lindsey of Hooked On Science that are in the lessons section of the SchoolhouseTeachers.com website. We could have picked others from the archives, but we had all the ingredients for the two listed in December, so we picked those to try. We did the Orange Flash one and the Pinecone Hygrometer one. There we learned why oranges are flammable and how to predict the weather with pinecones. It was really fun and we learned some neat science.
Pinecone Hygrometer science experiment
Jaedan and Delbin demonstrating the "Orange Flash".
Here is a short video of my kids doing the Orange Flash. Because there was fire involved I was close by to douse the flame if something happened, but my boys were very professional and they did very well with it. I was the one shooting and narrating the video. Sorry about the low quality, I am a bit new to doing videos so bear with me. I hope you enjoy it...
The dailies are short lessons that you can do daily with your children. There are a lot of different schoolhouse dailies to choose from. We found games, history, copy-work, art, science, spelling, grammar, writing, etc. while we were looking through this section. My girls did an
ABC With ME: History
lesson in the dailies section. This has a history lesson for every letter of the alphabet. We learned about Abraham Lincoln for A and they colored a printed picture of him from the lesson. The lesson linked to other pages that had pictures and descriptions of places and other things that had some significance to Honest Abe. All my children liked seeing these places in photographs and learning about them. It would have been neat to see them in person, but this was the next best thing.
Daily: ABC With Me: History
Zari wanted to do something on her own online and since she is preschool age we quickly found something fun in the Resource section of the site. We picked through and found the
EZ Storybooks
from EZTales. These are interactive stories that are put to animation and narration. A lot of these stories underline the words as they are said and she can click the words again with the mouse to hear them repeat. This is great for early readers that are just starting out like my Zari. What is also very nice about it is that she gets practice clicking the mouse and using the computer as well.
EZ Storybooks on SchoolhouseTeachers.com
WHAT WE WOULD LOVE TO DO NEXT:
There are a lot of other lessons and dailies that I would love to try out over the span of the year with my kids. These all interest us to some degree. Take a look and see some of the lessons we would love to do next.
In Electives:
A lot of electives look like fun. I would love to do the
Beginning Sewing: Historical Costumes
classes with my kids because we all love to cosplay and learning how to sew some neat costumes would be fun. Since we live on a farm and are just starting to learn the ropes the
Homesteading
classes would be of interest to me and my family.
Nature/Outdoor
studies sound right up our ally too since we all love being outside. I would love my boys to take the
Whole Foods Cooking
class because they need to have some practice in cooking more and since they love to cook I think they would really enjoy the lessons.
In Foreign Language:
My boys have both had an interest in learning
Spanish
so I am pleased to see a Spanish course in this section. My husband brought home a Spanish program to learn once, but it was a disappointment because of the over use of the word beer and many references to drinking. I know this will definitely not be a problem for the lessons on SchoolhouseTeachers.com because of how they are family oriented and Christian based. I would also love to encourage my boys to take the
Hands-on Hebrew
courses along with me.
In Music/Voice:
Once I get a new full size
violin
I would love to brush up on my technique because it has been a while since I played. I also would love to check out the
guitar
lessons since I have a guitar and have been wanting to learn to play it.
In Reading Writing, & Spelling:
The
Literature Kits
look wonderful! They start the course focusing on The Lion, The Witch and The Wardrobe and have hands on activities, recipes, history, geography, Bible, language arts, science, etc. in an all encompassing course. In the Dailies section we want to try the
Ditch the Desk
lessons. These are hands on and have a little bit of everything: reading, writing, arithmetic, science, and more to broaden our connection with the world.
Pre-K Activities: Read and Play
would be so much fun for Zari and I to do together. It is also listed in the Dailies section and has a list of stories to read to your preschooler along with activities games, and printouts to do with them that go with the story.
There are so many pockets on the SchoolhouseTeachers.com that I have not even gotten a chance to unearth yet in the two weeks I have had it so far. I definitely haven't mentioned everything. I am going to love exploring more and expanding both mine and my children's learning. I know I can count on SchoolhouseTeachers.com to have wholesome Christian based lessons which save me time, resources, and money.
Watch the video and see more about SchoolhouseTeachers.com:
SO WHAT DOES THIS COST?
Normally
SchoolhouseTeachers.com
is $12.95 per month for a monthly membership or $139 per year.
Right now through Christmas Day (at 11:59pm ET) SchoolhouseTeachers.com is having a sale!! Save 40% off the regular price! This is only $7.77 per month!! Or save up to $74 on their regular price by choosing a yearly membership for ONLY $64.26 per year! Don't delay because this sale won't be around for long.
Just click the image below to save now!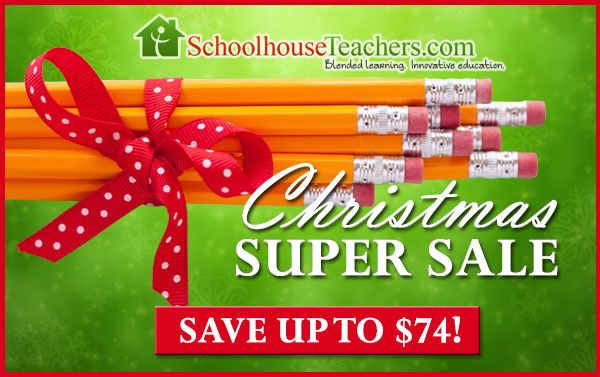 Follow Them:
Facebook Group:
https://www.facebook.com/groups/SchoolhouseTeachers/
Pinterest:
http://www.pinterest.com/tosmag/schoolhouseteacherscom/